About J-OCTA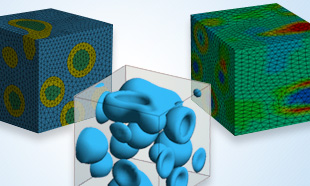 J-OCTA can be used at the forefront of materials and life science R&D
J-OCTA is a multi-scale simulation software that predicts properties from the atomistic to the micrometer scale on a computer for research and development of a wide range of high-performance materials such as resins, rubbers, nanocomposites, thin films, inks, and batteries, and in the life science field such as drug discovery and pharmaceutical formulation.
It can be used as a knowledge discovery tool to understand the mechanisms of complex phenomena that could not be understood by experiments alone, and as a data generation tool for informatics.
It is also possible to link simulators of different scales on a common platform and combine data science functions to support cutting-edge research and development.
Review article : Simulation of Polymeric Materials : Overview and Examples
Review article : Simulation of lithium-ion batteries
Review article : Overview of First-Principles calculation
Review article : Drug discovery and formulation
Review article : Materials & Process Informatics
Review article : Development of force fields used in molecular dynamics calculation
Review article : What you need to know when using molecular modeling and simulation for materials design
Structure of J-OCTA
To use J-OCTA's functions, "J-OCTA platform" is necessary, except for the QSPR-only version.
Structure of J-OCTA