About J-OCTA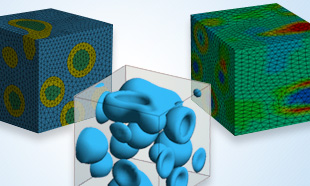 J-OCTA is useful at the forefront of material research and development
J-OCTA is a material property analysis software that predicts material properties from atomic scale to micrometer scale on a computer when developing a wide range of materials such as rubber, plastics, thin films, paints and electrolytes. It can be used as a knowledge discovery tool to understand complicated phenomena and physical properties which could not be grasped only by experiment results. We will support state-of-the-art material design and material development by linking and operating simulators corresponding to each scale on a common platform.
Main Functions
J-OCTA can be used to simulate...
Structure of J-OCTA
J-OCTA, except for VSOP, uses the computational engine of OCTA (an open source program). The software's functions require the J-OCTA platform, except for the QSPR-only version, which does not require it.
J-OCTA platform
- Molecular orbital method interface
- Analysis example database
COGNAC modeler (Coarse-grained molecular dynamics modeler)
- Including DPD (Dissipative Particle Dynamics) modeler
PASTA & NAPLES modeler (Rheology modeler)
SUSHI modeler (Dynamical mean field modeler)
SIESTA (Interfacial energy Tool)
MUFFIN modeler (Multi-phase structure modeler)
VSOP (parallel molecular dynamics engine)
QSPR (Quantitative Structure-Property Relationship)
Reverse mapping function
Solubility coefficient estimation function
Function for estimating χ parameters from phase diagrams
KRI-NIWA(High accurate group contribution method)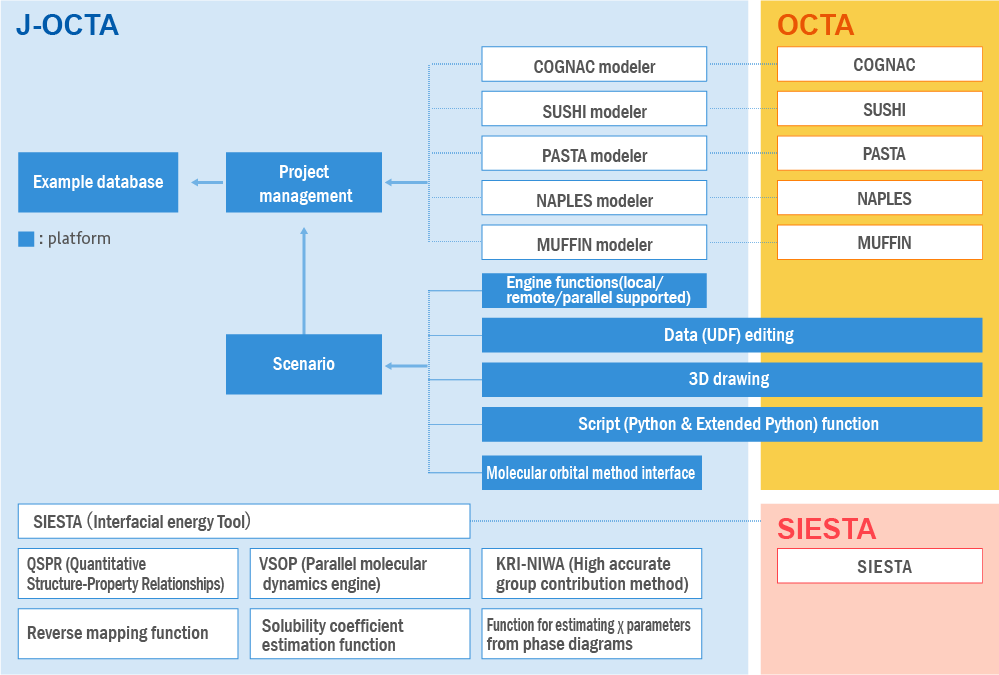 Structure of J-OCTA